Mission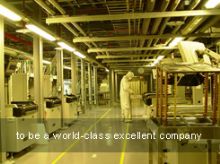 Chairman Greetings

Thank you for visiting WiseChip via our website.



For a few decades, with the rise awareness about environmental friendly and energy conservation, people around the world were aware of global warming, climate change and all sorts of other environmental concerns given all the recent press coverage. As we continue to strive for a Green solution provider, we have developed what we refer to as the WiseChip Green Solutions initiative, OLED products, which it positively realized Green Product ideal world at present. This is a company-wide and long-term commitment to reduce environmental impacts in areas of product development, procurement, production, logistics, services and recycling via technical and management innovations. WiseChip strives to develop and create any possible ways that not only improve the OLED manufacturer's operations and bottom line, but improve our environmental footprint and offer our partners and customers the best benefits as well.

WiseChip was founded in November 2005, we deliver a cutting edge OLED ecosystem technology as well as actively pursuing a compelling vision with high aspirations for the future. Our objective is to deliver more realistic and vivid images beyond what the human vision can feel through our display technology. With industry-leading R&D and production performance, we are committed to offering products that no other company can match and driving growth and innovation in the industry, for instance, WiseChip is the first OLED solution provider for officially mass-producing a series of the innovative Character type OLED with COG (Chip on Glass) package since 2010. As the exclusive driver IC features highly integration such as its built font library to display, English, Numerals, Japan, Western Europe, Russia and Vietnamese. The most advanced Character type OLED designed to enable compatible with VFD, LCD and STN instantly whatever hardware and software design, lower power consumption and longest life time for diverse devices as well. In addition, we are maintaining our dominant position in the PMOLED market by developing highly-efficient like brighter, lower power consumption, longer life time based on our exclusive technology.

WiseChip develops OLED product which implemented in various devices such as Communicate, Consumer, PC Peripheral, Industrial, Medical, Automotive and so on above market segments mainly. By introducing more innovative and ground-breaking products with our strong commitment to lead the display industry, we will surpass our previous accomplishments and success. Moreover, WiseChip is a creative, vibrant workplace with an open-minded culture where talented individuals can reach their full potential and enjoy every aspect of their jobs without fear of failure.
Based on our corporate value which is Communication, Trust and Creativity, we encourage a creative corporate culture and promote mutual growth with our partners and local communities. We promise you that we will honor our commitment as a company to lead the OLED industry in the world while practicing the consideration and quality management to meet the rapidly changing demands from the markets through thorough customer-oriented thoughts, strong executive ability and open communication, as well as to bring your dreams and imagination to reality and enrich the quality of people's lives.
Thank you.